Summer is finally here and we are ready for all the bounty it brings. Summer fruits and veggies make a great addition to any healthy dish. With the upcoming holiday weekend, we wanted to make sure to bring you our favorite pool and lakeside favorites.
We've rounded up our favorite recipes and refreshments to enjoy this Memorial Day. We're loving light, refreshing cocktails with a patriotic twist, healthy veggie kabobs, and grill-marked tender protein. We have recipes for healthy cocktails, stand out side dishes, and yummy main courses to please a crowd.
SIPS: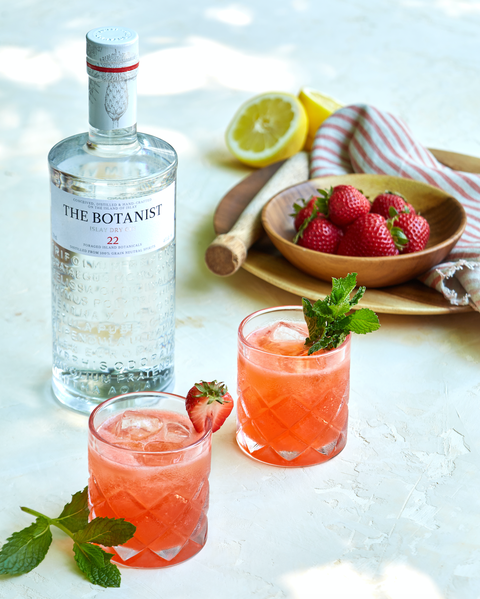 Ingredients
1.5 oz The Botanist Gin
.75 oz fresh lemon juice
.75 oz fino sherry
.5 oz simple syrup
2-5 halved strawberries
5-7 mint leaves
Instructions
Combine gin, lemon juice, sherry, and simple syrup into a cocktail shaker. Add ice and shake. Strain into a rocks glass. Garnish with mint leaves and halved strawberry.
SIDES:

Outrageous Herbaceous Mediterranean Chickpea Salad
Ingredients
2 15-

ounce

cans chickpeas

garbanzo beans, rinsed and drained, or 3 cups cooked chickpeas

1

medium red bell pepper

chopped

1 1/2

cups

chopped fresh flat-leaf parsley

about 1 bunch

1/2

cup

chopped red onion

1/2

cup

chopped celery plus leaves

about 2 ribs

3

tablespoons

extra virgin olive oil

3

tablespoons

lemon juice

from 1 to 1 1/2 lemons

2

cloves

garlic

pressed or minced

1/2

teaspoon

kosher salt and freshly ground black pepper
Instructions
In a large bowl, add the chickpeas, bell pepper, parsley, red onion, and celery. In a small bowl, whisk together the olive oil, lemon juice and garlic, and season to taste with the kosher salt and freshly ground black pepper. Add the dressing to the chickpea mixture and toss to coat. Serve immediately or chill up to 4 days. Before serving, add more salt and pepper to taste.
MAINS:
Yield: Makes about 6 kebabs
Ingredients:
• 2 (¾ pound) rib eye steaks, trimmed of excess, visible fat, and cut into chunks
• 1 tablespoons Chimichurri sauce (recipe below)
• 1 teaspoon salt
• Pinch black pepper
• ¼ teaspoon ground cumin
• ¼ teaspoon paprika
• 2 cloves garlic, pressed through garlic press
• Olive or canola oil, drizzle
• ½ small red onion, cut into small chunks
• 1 cup cherry tomatoes
• Skewers, soaked in water
Preparation:
-Add the cubed steak into a bowl, and add in the Chimichurri sauce along with the remainder of the ingredients up to and including the drizzle of oil, and toss well to coat.
-To assemble the skewers, add a piece of the red onion, followed by some of the steak, followed by a tomato, and more onion, steak, tomato, until all ingredients are used, and you have about 4-6 skewers assembled.
-Allow the skewers to marinate for at least an hour, or better yet, over-night; once ready to grill, place your grill pan over medium-high heat, drizzle in a touch of oil, and grill the kebabs for about 6-8 minutes, turning them to char on each side, or until medium rare.
-Serve hot with the Chimichurri sauce on the side, to drizzle over the grilled kebabs.
Chimichurri Sauce Ingredients:
• 1 cup cilantro leaves, chopped
• 1 cup flat-leaf parsley leaves, chopped
• ¼ cup fresh oregano leaves, chopped
• 4 cloves of garlic, pressed through garlic press
• 1 teaspoon salt
• Pinch black pepper
• ¼ teaspoon red pepper flakes
• 2 tablespoons red wine vinegar
• ½ cup olive oil
Preparation:
-Place all of the chopped herbs into a bowl, and add in the garlic, salt, pepper, red pepper flakes, and red wine vinegar; mix with a fork.
-Slowly add in the oil, whisking/mixing with the fork to combine the ingredients well, and use immediately, or, keep covered and store in fridge until ready to use. (Can be kept in fridge for a few days, for left-overs.)